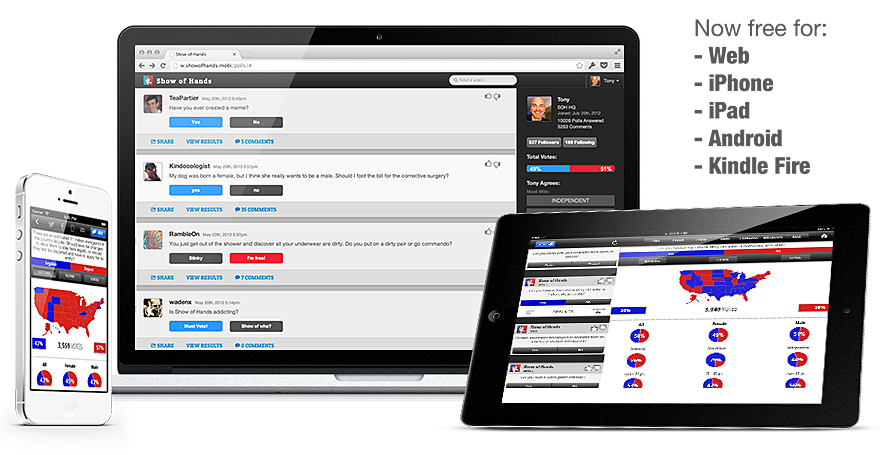 Sign Up:
It's fast and free.
Answer great questions
...then ask better ones
Discuss and debate
Level-up your brain
Get Started Today!

Current Trending Poll
Do you hang an American flag outside your home on holidays like Memorial Day and Independence Day?
Get Started Online or Download Our Mobile Apps:
Asked & Answered
Opinions are powerful little buggers, sometimes even more so than facts. Show of Hands is the fun and powerful way to peer into the brilliant and warped minds of people around the country. Answer questions daily and instantly see results sliced and diced by age, gender, income, party, geography. Build a following and ask them your own questions. Win arguments, bets, the admiration of millions. Or use Show of Hands with co-workers or customers, if you're all business-like that way. Whatever your goal, be smarter about it, champ.
What Our Users are Saying
"Favorite app! This is the only app that I truly look forward to using EVERY DAY!!!"
"SoH is my favorite application that I have ever downloaded. I have been using it since May 2011."
"Great Brain Candy. I love this app it gives me something to consider each day, makes me smile and laugh and occasionally I get a sense of where I stand compared to others."